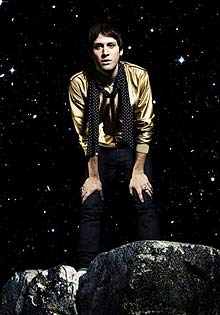 One of the things we didn't mention when we had Ali Love's 'Secret Sunday Lover' as Song Of The Day a while ago was that it is basically what a 2007 boyband single should sound like. Do you not think?
Anyway it's out this week and because we are Officially Too Busy to do a proper interview with him we asked Ali to email over five reasons people should buy his single. (He responded in capitals because that is the sort of man he is.) It is a shame we did not get a chance to do him properly this week because we had an amazing 'concept feature' idea called 'Love Comes Quickly'. Maybe next time.
Anyway…

1. "BECAUSE I GOT TASTE FOR THE CHARTS WHEN I WAS TOP 12 WITH THE CHEMICAL BROTHERS AND I WANT TO BETTER THEM."

2. "BECAUSE DANCING TO SPACE DISCO IS GOOD FOR YOU."

3. "BECAUSE 'SECRET SUNDAY LOVER' IS YOUR TICKET TO PLANET 69."

4. "BECAUSE IT'S EVERY MAN/WOMAN/BOY/GIRL'S DUTY TO SPREAD THE LOVE…"

5. "BECAUSE I RUN A HAMSTER RECOVERY CENTRE AND ALL THE MONEY GOES TOWARDS SICK AND NEEDY HAMSTERS…"
What a load of bollocks. Although Point 2 is valid and hard to argue with.
In case you have forgotten how amazing the song is, here it is in vidular form.
httpv://www.youtube.com/watch?v=RTtvruID-DE

It would appear there is space here for a joke.
Q: Why did Ali Love subtly order a second helping of ice cream?
A: Because he was a secret sundae lo(sniiiip!)