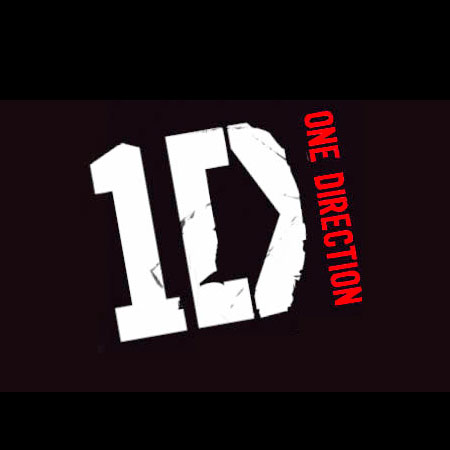 Things We Like About This Logo
» The arrow. The best use of an arrow in a pop logo since S Club 7 roamed the earth.

» The angle. Now is not the time to produce the Protractor Of Doom but we'd say this is a confident but not arrogant angle at which to set a boyband logo.
Things We Do Not Like About This Logo
» It offers two (2) different ways to write One / 1 Direction. They need to be clear that the band is called One Direction, par­tic­u­larly as their new website address is www.1direction.co.uk. NOBODY wants to witness a repeat of the whole 5ive/Five debacle — a painful chapter in the book of pop which even ten years on is too harrowing for most survivors to even think about.
» The 'battered' look. This is NOT the logo for some sort of 'Step Up II The Streetdance In The Hoodz' sort of affair.
In Summary
This is a confusing but bold logo that we will be Biroing onto our pencil case at the earliest oppor­tun­ity.