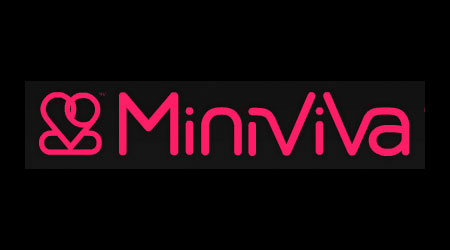 Notes:
» The thing on the left looks a bit like a symbol you might expect to find on the 'care label' on an expensive jumper which, when deciphered, means something like 'don't machine wash, don't hand wash, don't dry clean, don't let within twelve metres of water and/or anything that will help clean the garment, wear once then throw away'.
» Top marks for the various points of symmetry within this logo.
» Our favourite letter is the 'n'.
» The 'viv' bit looks a bit like a man in a volcano. IS THIS A WARNING. IS SOMETHING ABOUT TO HAPPEN RE A MAN IN A VOLCANO. IS THE WORLD DOOMED. IS THIS THE NOSTRADAMUS OF THE POP WORLD.
» No.
Idea for pop group:

Nostradamus & Pliers. One major hit then a second one that doesn't do very well. "I can't believe we've been dropped," Pliers says. "I could have told you that would happen," says Nostradamus. "This isn't quite as funny as it might have been is it," Pliers says. "I told you it would b(That's enough of that — Ed)