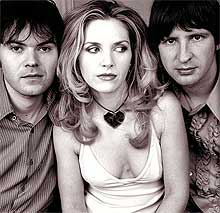 If you haven't listened to today's Song Of The Day clip yet, clear thirty seconds in your diary and hit the play button below.
Produced by Richard X, Saint Etienne's new single 'Method Of Modern Love' sounds like wind machines and billowing flags; it's got the
mel­an­cholic dance­ab­il­ity of a 'Call The Shots'-esque ballad-that's‑not and, to these ears, it sounds like a proper hit record.
Disclaimer: For these purposes we are defining 'hit record' in terms of a Top 20 chart placing, this is subject to change, chart expect­a­tions can go up as well as down.
[audio:methodofmodernlovenov08.mp3]
There is a lesson to be learned here and the lesson is that it's all very well faffing around with lovely sound­scapes, posho artistic endeav­ours, pre­tend­ing to be French etc, but at the end of the day all people sometimes really want is a massive electro-disco anthem with a "WHOAH-OAH-OAH-OAH-OAH-OAH-OH" bit in it.
Richard X, Heatbreak and Cola Boy have all weighed in with some remixes — the Cola Boy one in par­tic­u­lar is destined to bring a tear to the eye of many a clapped-out old raver — and the single's out on February 9. It's actually a double a side with 'This Is Tomorrow', another of The Etienne's best bits in a very long time.
Let's have another listen to 'Method Of Modern Love'.
[audio:methodofmodernlovenov08.mp3]
Amazing.