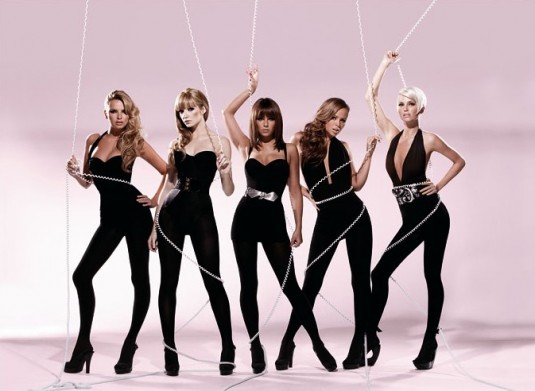 Look, we like a countdown as much as anyone else but sometimes you can't go wrong with solid pop music and pop music doesn't come much more solid than these bonafide, epoch-defining blasts of popmindblowingness.
Girls Aloud's Third Best Single Is: 'SOMETHING KINDA OOOOH'

Nothing quite encap­su­lates Girls Aloud's 'Top Tunes, Shit Vids' manifesto like this 2006 banger, which thunders through numerous different phases without pause for breath. It is a bit like being repeatedly punched in the face. It is a TOTAL POP ASSAULT. But in a good way. Popjustice does not condone violence.
Girls Aloud's Second Best Single Is: 'BIOLOGY'
You can't mistake its amazeology.
As a bonus, here is the legendary Tony Lamezma mix of the song. BRACE YOURSELF.
Girls Aloud's Actual Best Single Is: 'CALL THE SHOTS'
Not only Girls Aloud's best single but a clear contender for Actual Greatest Song Of The Millennium.
Please be aware that these are offi­cially Girls Aloud's best singles, and the ranking is not open to question. There is one question worth pondering, though. And that question is: How do you follow that?