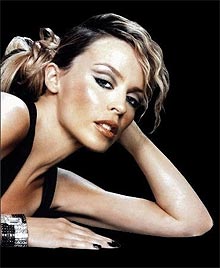 OMG have you heard the new, recently leaked Kylie Minogue single?
It's called 'Excuse My French' and it's a sort of undu­lat­ing electro groove thing in the vein of 'Can't Get You Out Of My Head'. It's about rumpo and giving and taking, has a great "oh-oh-oh-oh" bit, and includes the line "all I wanna do is… Oh, excuse my French". (We believe this clever device should lead the listener to deduce that Kylie is in the mood for something involving a baguette.)
But why has it leaked so early?
These things are usually sorted out with one email to people know actually know what they are talking about. Parlophone say this:
"It's actually an old demo — nothing to do with the new sessions for this album. I believe our anti piracy people are on to it."
That is what they say. So there you go.