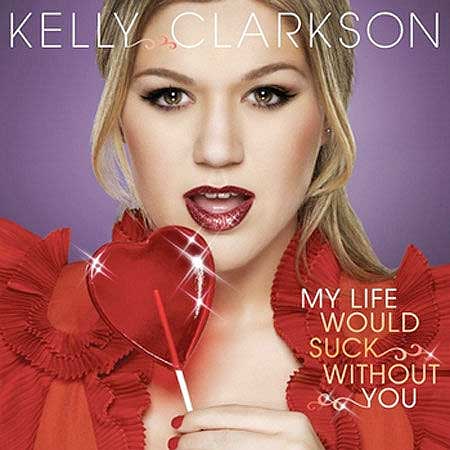 This sleeve — for Kelly Clarkson's comeback single, 'My Life Would Suck Without You' — has been raising eyebrows over the last few days. 'My Life…' is the lead single from new album, but what does the sleeve mean, and what does it help us to deduce about the song itself? The last album 'My December' was all moody and teenage and emo and nobody bought it, so does this 'My Life Would Suck Without You' imagery suggest a complete u‑turn?
Here are the options.
0. Non-Bluff
It is a pop sleeve for a pop-titled single because it's a 'pop' song. The sleeve is sort of sub­vers­ive because it's tacky and over the top which means that Kelly is perhaps sending a message to her fans about how she feels re this new (ie old) direction.
1. Bluff
It's NOT a pop song and is in fact even more of a sub­stand­ard Evanescence fiasco than 'My December'.
2. Double Bluff
They want you to think they're trying to trick you into thinking it's an ironic sleeve and that it's a rock single when in fact it is pop.
3. Double Double Bluff
They know you're going to expect that it's a pop single pre­tend­ing to be a rock single playing on the icon­o­graphy of a pop single, and it is in fact a rock single.

4. Double Double Double Bluff
The fact that it's a rock single pre­tend­ing to be a pop single dressed as a rock single in the guise of a pop single is too obvious — it is, in fact, a pop single.
5. Frank Bough.
It is probably not Frank Bough.
Anyway it'll probably leak in some sort of low-quality US radio rip type format pretty soon, so there's not long to wait until the dramatic truth is unveiled. In the meantime here are some details on the album — appar­ently it includes a couple of Katy Perry songs, including 'Long Shot'.
httpv://www.youtube.com/watch?v=x70jLd5WroQ

Look love, all we want is another 'Since U Been Gone'. Sort it out.