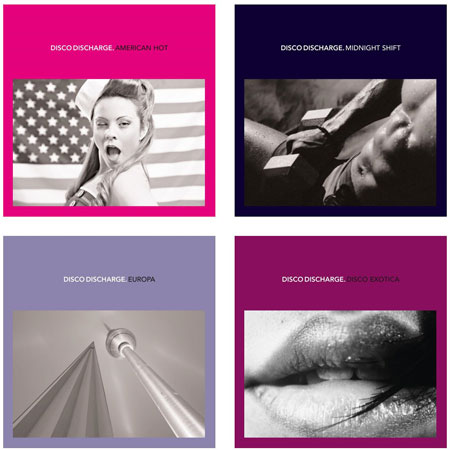 The people behind the incred­ible com­pil­a­tion series Disco Discharge (which we have written about 'at some length' in the past) are putting out another four double CDs of amaz­ing­ness on April 30.
To celebrate the new releases (and let's face it drum up some attention) they've knocked together a VERY GOOD 42-minute Italo/hi-nrg medley megamix sort of thing, which you can listen to and download right here if the mood takes you.
Tracklisting for the megamed­ley­mix: 1. Radiorama — 'Hey Hey' / 2. Taco — 'Putting On The Ritz' / 3. Cleo — 'Go Go Dynamo' / 4. Baltimora — 'Tarzan Boy' / 5. Lian Ross — 'Say You'll Never' / 6. Lili & Sussie — 'Candy Love' / 7. Silver Polozzi — 'Around My Dream' / 8. Loco Loco — 'Mr DJ'. Imagine if you picked up a Pixie Lott album and it had tracks on it with those titles. IMAGINE. It would be the greatest day of all time. It would be a day even greater than the day in Take That's 'Greatest Day'.
Amazon currently have the CDs up for pre-order at £5.97 a pop, which seems quite fair to us.
Also, from the press release:
The team behind Disco Discharge are launching a new sister label, Disco Recharge this spring as a platform to re-issue seminal disco albums with added unre­leased material. The first in line are special editions of the first two Change albums 'The Glow Of Love' & 'Miracles' which will be a double disc set featuring bonus tracks. The second release will be a very special two disc edition of the first Voyage album 'Voyage' which in addition to the classic original album, will feature a complete unre­leased instru­mental album along with other very rare bonus tracks. Each album will feature extensive liner notes from Alan Jones. More rights have been secured for future releases and these will be announced in the near future.
Hooray.