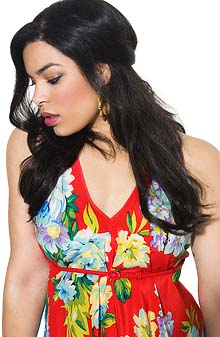 STOP WHAT YOU ARE DOING AND READ THIS. IT IS ABOUT A VERY IMPORTANT POP RECORD.
We recently wrote about Jordin Sparks' comeback single
'Battlefield' but now the song's leaked — ahead of Jordin's American Idol per­form­ance tomorrow night and US iTunes release later today — it's worth reit­er­at­ing just how incred­ible the track is. Basically it's a solid 98% on the incredibometer. It's about wars, fighting, white flags and hostages, with an amazing "betta­goan­getch­erama" hook two thirds of the way through, some huge, massively over­stated 'BV' action, crazy adlibs, "whoah!" bits, twinkly pianos, soft rock break­downs and, if you listen very closely at the 3'27" point, the sound of Ryan Tedder's kitchen sink being wrenched out of the kitchen, carried through the front door, dragged down the garden path, loaded into a truck, driven to the recording studio then aggress­ively crow­barred, hammered and smashed into the mixing desk.
Here are some comments posted on the Popjustice forum since the song's leak.
» "If this isn't fucking massive like Halo should have been I really will let rip. It's amazing."
» "Well this is a surprise!"
» "It's a BEAST!"
» "You can tell we're going to hear girls singing this for years to come."
» "It's one of those songs that makes you insanely happy but depress­ingly sad at the same time. The perfect com­bin­a­tion. I can't wait to hear it played loud in a club. It'll be immense."
» "I think it's actually the first thing Ryan Tedder's written in a long time that has a character of its own outside of Bleeding Love."
» "Cue Wind machines,strobe lights and oodles of smoke."
» "Better go getcha armour is the greatest ever J‑Speezy moment."
» "It's casual, but amazing."
And in the interests of fairness…
» "It's very good, but sadly it's not full-on amazing.
Basically it is full-on amazing and if there's a better mono­lithic Ryan Tedder R&B extended metaphor rock power ballad this year we'll eat our hat. (Subject to change upon receipt of the Alexandra Burke album.)