Here are some pictures from the video shoot for the new Dannii Minogue vs Jason Nevins epic 'Touch Me Like That'.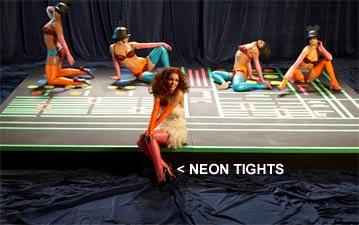 Is Dannii sitting on a circuit board? It's a wig by the way. Guess who wore the wig once and still has her name sewn in the back of it like a small child on her first day at school? We will tell you. Joan Collins. JOAN COLLINS. Dannii is wearing a wig once worn by Joan Collins. What we mean by that is that Dannii Minogue — in her new video for the Jason Nevins-produced 'Touch Me Like That', out in December — is quite literally WEARING a WIG once WORN by JOAN Collins.
Here's another picture from the video shoot. You can see the wig a bit better in this one.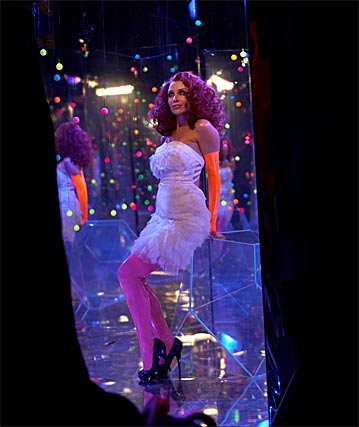 Apparently Jason Nevins phoned the office the other day to say something along the lines of 'thank you for writing a nice thing about the single', but the person who took the call didn't think it was worth men­tion­ing or writing anything about so we may never know what Jason had to say for himself. We wonder what Jason Nevins has as his mobile phone ringtone? We would imagine it is something LOUD and RIDICULOUS.