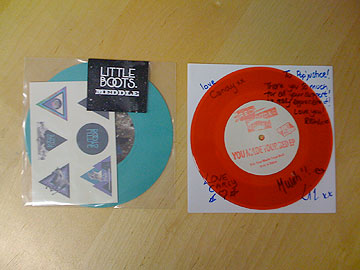 We love coloured 7" vinyl. You can stick it on the wall.
Let's see how the coloured 7" vinyl of Little Boots' recent single 'Meddle' compares to the 7" coloured vinyl of Red Blooded Women's current 'You Made Your Bed' EP release.
Where Little Boots succeeds:
» Amazing music.
» Inclusion of FREE TATTOOS.
» No light would get through this 7" single — ideal for blocking out light in a circular window (perhaps when on a cruise).
Where Little Boots fails:
» Tint borders on 'bogey green'.
» Sticker holding plastic sleeve together must be ripped or cut in order to access tuneage.
Where Red Blooded Women succeed:
» Nice trans­lu­cent effect.
» Rubber stamp. You cannot go wrong with a rubber stamp.
» Pleasant signed messages on sleeve.
Where Red Blooded Women fail:
» Wildly inac­cur­ate 'EP' claim when vinyl only actually includes two songs.
So there you go.
If someone would care to send us some yellow vinyl we can get going with the long-awaited Popjustice Coloured 7" Vinyl Traffic Light Experiment, cheers.