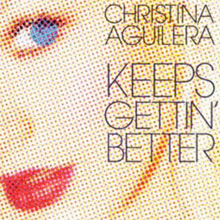 When we featured Christina Aguilera's new single 'Keeping Gettin' Better' as Song Of The Day on Monday, we noted that we'd keep you posted on how our feelings changed on the track. Well once you've got over the initial excite­ment of Christina leaving behind the ridicu­lous Tiller Girls 'routine' of her last album, it turns out this new single is actually quite shit.
There's a con­ver­sa­tion on the Popjustice forums at the moment, in relation to past winners of the Twenty Quid Music Prize, about longevity in pop and whether pop songs need ever bother them­selves with notions of 'how this will sound in five years'. There's a good argument for pop not having to care less about the future — leave that to 'Bono' — but, Christ alive, you'd expect someone like Christina to come up with a comeback single whose appeal lasted more than three days.
THREE DAYS.
To put that in context, we managed to make ourselves think that Girls Aloud vs Sugababes' 'Walk This Way' was 'not as bad as it could have been' for almost five days.
There's nothing to this song. The sub-Katy Perry (there's a phrase to strike fear into your iTunes playlist) lyrics are empty and lifeless, Christina's vocal per­form­ance is not so much phoned in as absent-mindedly Twittered from the bus stop and the pro­duc­tion would have sounded dated and limp four years ago.
Perhaps we've missed the point of this — it could easily be the case that having spent her last album campaign in 'Forces' sweet­heart' mode, Christina's new effort is a super stylised homage to the sights and sounds of 2004. Perhaps we can expect homages to DJ Casper's 'Cha Cha Slide' and 3 Of A Kind's 'Babycakes' as the Christina Greatest Hits campaign continues. That would be good.