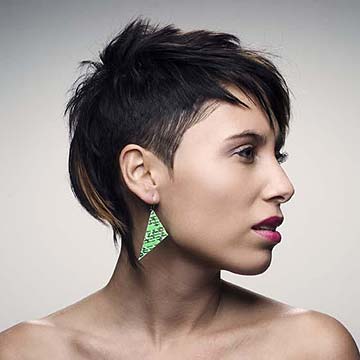 This is Isabel Guzman, another one of our new favourite popstars.
Here are clips of two of her songs.
[audio:isabel1.mp3][audio:isabel2.mp3]
Those songs are 'Lovesong', which sounds like a pounding Kylie vs The Similou col­lab­or­a­tion (and was Song Of The Day last Friday), and 'When You Were My Friend'. Isabel recently signed a single deal with SonyBMG. Things we like about these songs: soph­ist­ic­ated and inter­est­ing but uncluttered pro­duc­tion, cute but effort­less lyrics, dis­tinct­ive vocals, bright, warm, cha­ris­matic, (Now you're just listing words — Ed)
We reckon Isabel is def­in­itely one to watch over the next year or so. Let's ask her some questions to find out more about what she is.
If we were to start a story about you on the Popjustice homepage with the spurious question 'Is this woman the new Robyn?', what would you say the answer is and why?
"I don't think Robyn is old yet! But of course I am flattered, never actually heard anyone compare me with her before. She is a brilliant artist, a great song­writer and an intel­li­gent woman. Although I really believe there is room for the both of us. I don't really see us as rivals, more like pop-sisters. Her back­ground is R&B and mine is more classic pop."
Did you have a bike when you were younger?
"Yes! My first bike was pink and pretty. My dad bought it for me… Now I have a mountain bike in the garage, but I never use it."
You have signed with SonyBMG. What's good about major labels?
"Tricky! The good thing about a major label is the strength and the money. But, the major label could also decide to put all their money and strength on an already big selling artist if the start is slow. What I am trying to say is that the small labels are filled with people who burn for their jobs and music… An A&R at a big label gets paid at the end of the month no matter what. But, this is the way I decided to go right now and I see it as the big label's job to prove their greatness to me…"
Do you own a dishwasher?
"The house I live in already had a dish­washer when we moved in.
It's from the early 80s, but still going strong. I don't know the
brand."
Whose music does yours sit nicely alongside?
"I like the crossover between different genres. I think my biggest fear is to end up in one genre. I always want it to start with a great pop song and then spice it up in he studio with elec­tronic sounds, live int­stru­ments and a beat that won't allow you to sit still. So the artists I most admire are those who manage to exper­i­ment with genres without losing the pop core. For example Madonna, Gwen Stefani and the afore­men­tioned Robyn."
Is it easy to write pop songs?

"I don't believe it is. I sounds like a cliché, but sometimes it feels like there is someone else involved when you write a song, like someone is putting the melody or lyrics in your head. And those are the best songs. I have tried so many times to sit down and try to force a melody out of
my head… And it works, but the result is usually not so good. The best
songs just happen, I think. I live in the coun­tryside outside of
Stockholm and the bus into town takes me about 40 minutes. On that bus
is where most of my melody ideas and lyrics see the light. My first
single, 'All In Your Head', was born on that bus."
What did you do before you wrote pop songs?

"Listened to pop songs."
Thank you Isabel. We like you very much.
MySpace link: http://myspace.com/isabelguzman