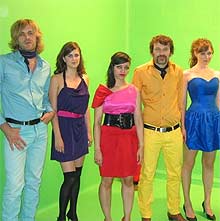 If the amazing 'The Bomb' single can't nudge trendy elec­tro­pop band New Young Pony Club into the Top Forty then is there any point in carrying on?
Well, if the album sampler for their new album is anything to go by then the answer is – yes, probably.
We have five songs from the 'Fantastic Playroom' album on a CD that isn't allowed to go anywhere near the internet in case the clam­our­ing masses finally get their hands on the unre­leased NYPC tracks. Here is our official verdict.
'Ice-Cream'
With lyrics about 'dipping' one's 'dipper' the chances are NYPC aren't singing about a 'Funny Foot' or a 'Zoom' in this song. That's right viewers, it's all about cocks and cunts. 'Ice-Cream' was released as a 12" single once and has been on their MySpace for ages so you have probably heard it before, no doubt in a trendy nitespot of some sort.
'Hiding On The Staircase'
If Fannypack went on holiday somewhere tropical and made a song while they were there it might sound like this, were it not for the fact that Fannypack called it a day ages ago thus rendering our imagined scenario com­pletely obsolete.
'Get Lucky'
This could be a single if it wasn't for the fact that it unfor­tu­nately doesn't sound like something Jo Whiley would play on her show before screaming an expletive all over it (or however it is she chooses to conduct herself on national radio these days). A very good song. An eight-out-of-ten kind of song. A thumbs-up kind of song. An 'I wouldn't mind listening to that song again when this slightly lengthy Mutya album has finished on the office stereo' kind of song. A (Get on with it — Ed)
'The Get Go'
This song is quite exciting and is a bit spooky as well. Like a ghost on a unicycle. It takes ages to get to the chorus but a) so did 'Biology' and we don't see you moaning about THAT, b) it is worth the wait because it is things like catchy, brilliant and so on.
'Fan'
This one is alright but doesn't go anywhere really and we would probably have slipped 'The Bomb' onto the album sampler instead, really, but it is someone else's job to decide these things.
IN CONCLUSION
The New Young Pony Club album is shaping up to be quite good but it will no doubt be very amazing indeed* when the other five songs are revealed.
* Subject to change