No, it is not. We heard some of the songs listed below last night at a thing in London.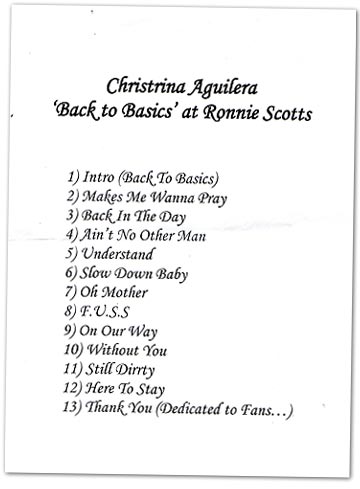 We like the fact that having once shortened her name to Xtina, Ms Aguilera now seems to be extending her name, by adding an extra 'r'.
Christrina was there last night to introduce the songs. She spoke quite a lot about her love for jazz music (hence the venue etc etc) and while she hadn't exactly dressed up for the evening she looked very pretty. She informed us that she was "going to share with you my heart and my soul", which was nice, because in these days of celebrit­ies being guarded and emo­tion­less, here is a musician not afraid to really be honest with her fans.
As you can see from the tracklist, the album includes a song called 'Still Dirrty'. This has to be the most amazing song title of all time (for the time being) except it wasn't played. But some other songs were. Including…
'Back In The Day'
Which namechecks ori­gin­at­ors and innov­at­ors like Ray Charles, Miles Davis and so on. It is a bit like Kylie's 'Step Back In Time' except with Coltrane instead of the O'Jays.
'Understand'
Which sounds like an expensive version of Simon Webbe's 'No Worries'.
'Enter The Circus'
Which, as Christina herself said, was 'a little bit' Danny Elfman.
'Welcome'
Which is Christina's take on Tears For Fears' 'Sowing The Seeds Of Love'.
'Candyman'
Which is the Sheila's Wheels advert meets Bananarama & Fun Boy 3, and is therefore both brilliant and ridiculous.
'Nasty Naughty Boy'
Which is about rumpo.
'Hurt'
Which, from what we heard last night, is the album's nearest stab at 'doing a 'Beautiful''.
'Mercy On Me'
Which sounds like Sam Brown doing 'Stop', but with Christina doing it instead.
Of the above, we were SHOCKED and MORALLY OUTRAGED by 'Nasty Naughty Boy', which included some quite 'choice' lyrics relating to sexual inter­course. Such as:
"I wanna give you a little taste of the sugar below my waist."
(Translation: please perform oral sex on me.)
"Put your icing on my cake."
(Translation: please unload yourself on my bosom.)
"I'll give you a little spanking."
(Translation: I'll give you a little spanking.)
"Come on daddy."
(!!!)
"Well," announced no less impartial a com­ment­ator than Craig Logan from Christina's record label, "what a fantastic sounding record". He was right, though. It did sound fantastic. 'Ain't No Other Man' is still the best song so far, though…