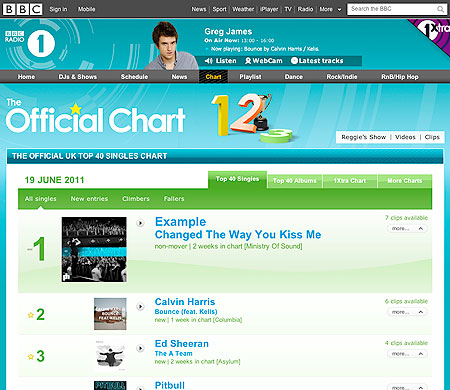 Some people say it is. We say: no of course it's fucking not.
HOWEVER:

There needs to be complete under­stand­ing — across the media, through
fanbases, with anyone who might start shrieking and shouting at a week
one position outside the Top 20 — that a song's chart journey does not
begin and end with the first week's sales.

Radio stations need to under­stand and co-operate with what is happening. We
appre­ci­ate that certain stations (ie Radio 1) are sad about losing some of their supposed power
but if you're telling labels you won't play their songs until they are hits you're not
helping anybody.

It just doesn't work if only a few people are doing it. Yes, we know the charts have never been a level playing field — you can't
really judge a single with a £300K marketing budget against a single
with £15K behind it. And no, we are not sug­gest­ing that everyone gets the next tube to Elephant & Castle and stands
outside Ministry shouting "SCAB" every time Example goes in for a label
meeting. But if they (and Sony and whoever else
is ignoring On Air On Sale whenever it suits them) keep 'cheating' and going for short term gains, the
labels and artists who (largely through gritted
teeth) are sticking to On Air On Sale are doing it for nothing. We therefore demand that the Official Charts Company dis­qual­i­fies any single taken to radio before it goes on sale. Effective immediately.

Labels: it's
pointless to wait until everyone's bored of a song until you release the
video. Campaigns need to be flexible like they never were before. There has to be some sense of momentum; key assets like the video need to be ready to debut at a moment's notice. If interest tails off, unleash the video. Maybe bringing forward the video debut will mean that the single campaign is more compact, and ends earlier than you expected. Maybe the earlier appear­ance of the video will create a surge of interest that pushes the release to radio a‑lists and extends the campaign. Plan for these even­tu­al­it­ies. God only knows what you're going to do about that Graham Norton appear­ance you've got booked for six weeks from now. Maybe that could be the next single? DON'T PANIC.




We need to accept that there will be col­lat­eral damage until people know what is happening. Listen to her fans and you'll believe that the Nicola Roberts single — currently sitting somewhere in the lower reachers of the iTunes Top 100 — has not flopped because. True, it's still not 'properly' out for another FOUR WEEKS with various pro­mo­tional activity scattered through­out that period, but it already feels like people are bailing on it. It may well be that she's one victim of The Change. It's not just her — Britney's UK comeback stalled too. (There's a BBC article about some of that here.) But we should put emotions (and they are strong emotions, readers) aside here. We don't feel happy about offering up a sac­ri­fi­cial Girls Aloud member to the gods of On Air On Sale, but maybe that's just what needs to happen. Maybe everything needs to go to shit for eight or ten months in order for the next eight or ten years to make any sort of sense.

There are still only 40 places in the Top 40, and slowing down a
single's chart narrative will mean there's room for fewer Top 40 singles
each year, so it must also be accepted that not all songs will benefit from On Air On Sale. Some releases may do better than they would have done before and some releases may not do as well, but one certainty is that labels won't suddenly see all their releases becoming hits. Most artists and singles will continue to fail, because most artists and singles always have failed and most artists and singles always will fail. Label bosses: your crap new band failing to be of any interest to anyone at all is your fault. Don't blame On Air On Sale. Don't claim On Air On Sale is a failure because you don't have anything in the Top 10.

Fans, meanwhile, have to be realistic. Yes we know it's hard. But just as we should hesitate to judge singles that haven't flopped yet, it is also important that we accept when singles do flop. If it's on air and it's on sale and nobody's buying it, it's not working and would never have worked. In fact, perhaps some fans should be grateful. Maybe fans who will
spend the rest of their lives bleating on about how a release "would have been a
hit if it weren't for On Air On Sale" have actually been spared the torment of seeing their favourite act with a bonafide actual flop on their
hands. We will never know.
In summary: BLAH BLAH BLAH BLAH.
(What we would love to see, if anyone who knows about these matters can drop us an email or something, is a list of five singles that have def­in­itely bene­fit­ted from On Air On Sale, and five singles that have def­in­itely lost out.)