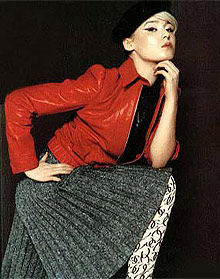 Here are ten fas­cin­at­ing 'facts' about the stu­pendous return of Roisin Murphy.
1. The single, 'Overpowered' is a 303-stuffed, 'Higher State Of Consciousness'-goes-disco groovea­thon which Roisin has invented with someone out of Bugz In The Attic.
2. Another song called 'Movie Star' is com­pletely immediate and is a bit like a Belgian rave reworking of Rachel Stevens' 'So Good'. It's about "a head­strong girl, I'm afraid I won't be told" who wants to break into the film business. The song whooshes into the chorus with a cry of "we'll make a movie and break into cinema, you'll be director and I'll be your movie star". We predict some people might quite like to have a little dance to this and will be testing this hypo­thesis at Club Popjustice in the near future.
3. As an altern­at­ive to 'Movie Star', some of the other best bits of the album are at once com­pletely under­stated and bril­liantly in-your-face, while also being proper pop music by a proper popstar.
4. 'Primitive' is a spook­tastic ditty about us all coming "from the prim­or­dial soup" and "from a pre­his­toric scene we crawl" and so on, with a brilliant chorus of "I'm gonna get you out of your cave, man, I'm wanna let you out of your cage and set you free". It is eerie and amazing.
5. A lot of the album is a bit like Goldfrapp meets Annie meets Grace Jones meets quite a bit of 80s soul with Timbaland-esque knob-twiddling, although it is also fair to say Roisin has probably been listening to Bertine Zetlitz, espe­cially on 'Footprints'.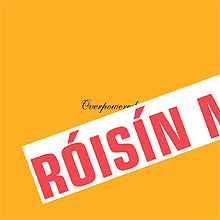 6. Roisin is not signed to Echo any more so she might sell some records this time, also helped by the fact that the album is about 18 times better than her first solo effort. EM 'home of the hits' I have sorted it all out this time around.
7. There will be remixes of 'Overpowered' by Seamus Haji (who was respons­ible for turning Booty Luv's first single into a hit) and Kris Menace (who did that good 'She's Madonna' remix).
8. The second single looks like it will be 'Let Me Know', which kicks off sounding like a disco rework of the X Factor theme and ends up like Good Moloko. It was written with Andy from Groove Armada who, it seems, are fast heading into the super­league of British pop 'tun­e­smiths'.
9. The single is not out until bloody JULY with 'Let Me Know' dropping in September and then the album in October.

10. If this doesn't end up in our Top 10 Albums Of 2007 list, it will have been a very good year for pop music.