Christ alive, look at the state of our desk.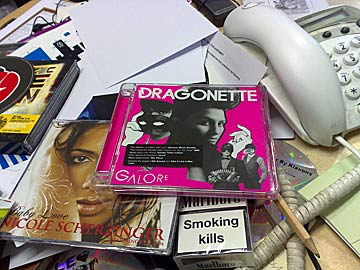 Anyway, the Dragonette album (perched atop the pile of pop) is FINALLY in record shops this week*.
We've kind of lived with this album since last December and still play it loads and loads and loads. We get the impres­sion there might not be too many more singles released from 'Galore' which is a shame as, in a parallel world, there are three or four Top 5 singles among these 11 tracks, but as a little pink capsule of brilliant modern pop it's hard to beat.
If you've down­loaded the album over the last few months here's your chance to upgrade to the legal version — as a series of bits of plastic and paper or as a number of digital files you'll lose forever the next time your computer breaks.
* Historical note: 'record shops' are an old fashioned version of DVD emporia like HMV and Virgin. In times gone by, people who enjoyed a song or col­lec­tion of songs ('an album') by a singer or band would walk to one of these 'record shops' and pay money in exchange for the music. Of course, these days music is free, meaning that it is possible for teenagers to spend money on more important things like drugs and shoes with wheels in them**.
** Historical note: 'shoes with wheels in them' used to be known as 'roller skates' but now they are known as something else.