This is the sleeve artwork for Roisin Murphy's 'Overpowered' single.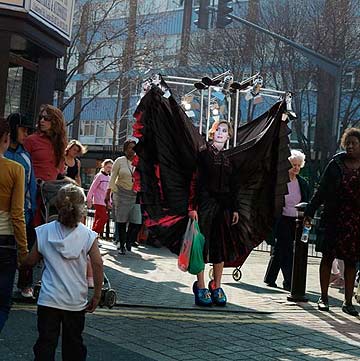 As you can see she has been to the corner shop BUT she is wearing a full lighting rig and backdrop, as if she is a per­form­ance. There are probably some very intel­li­gent Media Studies-type comments to make about this jux­ta­pos­i­tion but we have to remember that while the image above might look out of the ordinary, wandering around East London with a dis­pos­able camera, blind­folded, for half an hour would probably reap similar rewards.
We are presuming posho fashion types Viktor & Rolf have been called in to do some of the styling for Roisin because the lighting rig and clogs 'get-up' is not what you would describe as being a million miles away from Viktor & Rolf's fall 2007 show.
The whole Roisin campaign's imagery is based around a general concept of fab­ulous­ness in mundane places, FYI.
(Thanks to Sarah C for the info.)