So they said: "The new Diddy-Dirty Money single 'Ass On The Floor' is out next week, do you want to do a com­pet­i­tion to win a Diddy-Dirty Money Flip camera?"
Then we said: "Alright then."
But we were thinking: "We are not really sure how this is going to work. Does anyone really want a Diddy Flip camera? Does some odd Diddy artwork slapped on the back of something that's only worth about seventy quid make it more valuable? Or does it actually lower the value? The song's alright, but so was the last one and we didn't give away a Flip cam to go with
that."
And now here we are. It's Monday, the single's out to buy, and we're looking at a Diddy Flip camera we don't even want to dis­hon­estly keep for ourselves because we've got a Kodak one with an audio-in socket which is a) better and b) doesn't have Diddy artwork on it.
Basically the camera in the picture below is yours if you want it. It's pretty good (it's a Mino HD one) so if you don't have something that does a similar job you might get some use out of it.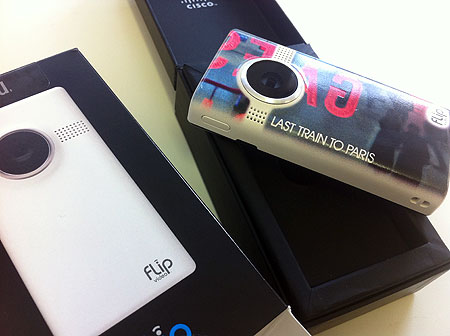 If you want it, send an email to [email protected] and we'll pick a random winner at 5pm today. In your email please include your name, address and a picture of Diddy that you have drawn using either a felt tip pen or a shoddy computer graphic program like MS Paint.
All that remains is to ponder the boundary-smashing pop­cul­tural behemoth that meant so much to an entire gen­er­a­tion and inspired so many imitators but is, now, defunct and irrel­ev­ant. The Flip cam, ladies and gentlemen. The Flip Cam. A moment's silence please.
That'll do, now get back to work.