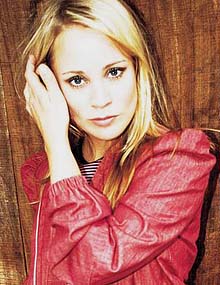 If for one reason or another you missed Annie's gig in Kings Cross last night, all is not lost.

OPTION A
You can see her THIS EVENING. She will be a‑trillin' and a‑dancin' at fash­ion­able West London nitespot Yo Yo. She will be taking to the stage at 10pm.

OPTION B

Tomorrow night — that's FRIDAY — she will be doing something similar at the Old Blue Last. The fun will start at 11.15pm.
There you go.