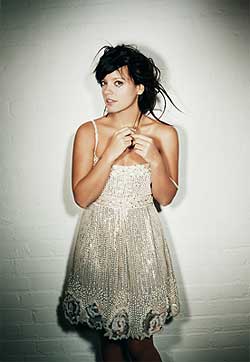 Lily Allen has a newish blog called It's Not Alright — it's where she's putting bits and bobs about file sharing. Worth a read if you've got a spare few minutes.
Anyway she put up a post today and, in the middle of it, is this sentence.
"Just so you know, I have not rene­go­ti­ated my record contract and have no plans to make another record (applause)."
If you consider the facts here (first album amazing, second album amazing) this is probably not an ideal situation, really. Less than ideal, in fact. Ideal this is not. On the idea­lo­meter you'd probably put it somewhere below 'being kicked out of the band you formed eleven years ago'.
Anyway, deeply unfash­ion­able as it is in an era of just copying, pasting, pub­lish­ing, retweet­ing and waiting for the comments to roll in, we took the 7.8 seconds' worth of effort required to send a querying email to Lily's spokesman, who sent this back:
"She is not quitting pop music and is still promoting her current album, which is why she said she is not thinking ahead to another record."
So there you have it. An official quote to clear everything up. New album for Autumn next year please, cheers.