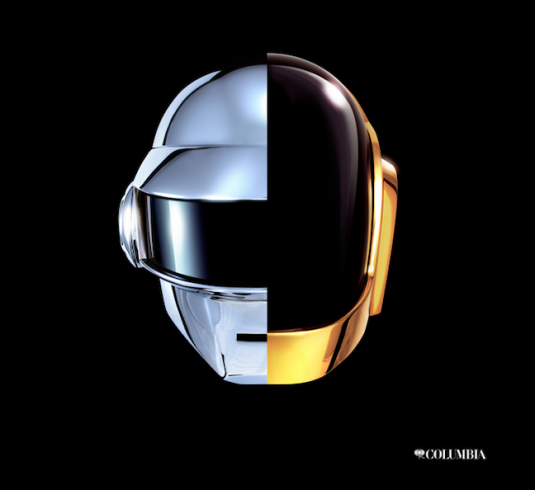 Perhaps this is news to you, but Daft Punk have a new album coming out. It's called 'Random Access Memories'. Unfortunately for them and their major label backers, all their attempts at creating a buzz — gigantic billboard posters, teaser trailers, Vines to reveal the track­list­ing etc — have been generally ignored, which is a shame.
I am of course employing sarcasm for comic effect because obviously it's all everyone's bloody talking about. To fit with the album's 'block­buster' feel, no copies of the album were sent out to journ­al­ists, with early playbacks taking place in the duo's studio in Paris.
The playback I was invited to did not happen in Paris. It happened in an extremely hot office in a record company building in west London on Thursday April 18 at a quite-early-when-you-have-to-travel-from-Stoke-Newington 10:30am. The reason for the delay in writing about it is because there was OF COURSE an embargo on the whole thing, which means you can enjoy a slew of track-by-track things as of today.
Anyway, here's what happened.
9:08 — I leave my house and catch a bus to Liverpool Street station. The bus is a 149, Ruby Goe's favourite.
9:37 — I board a Central line tube to Notting Hill Gate.
9:50 — I arrive at Notting Hill Gate station and decide to walk down to High Street Kensington, my final des­tin­a­tion, as the weather is quite nice.
10:02 — I suddenly realise I'm early, which is rare.
10:13 — Thankfully there's a Whole Foods near the office building so I have a wander about and laugh to myself about how expensive some of the things are. I check my emails.
10:17 — I realise I'd quite like a cookie so I buy a ridicu­lously large white chocolate one which I then put in my bag. I also get a large tea despite the fact that I know it will make me need a wee quite soon.
10:23 — I get lost trying to find the building because a lot of the roads look the same in that part of west London.
10:29 — I meet the PR in the reception of the label building. I sit down on a chair near another journ­al­ist who is also here to listen to the album.
10:34 — We're taken into a boiling hot office that features two sofas, a big TV screen and a stereo. Someone from the label who's joined us tells us that during one of the other playbacks of the album the speakers blew so they had to replace them. I don't know if this is true. As you can see from the picture to your right, the bin in the office is red.
10:40 — Two other journ­al­ists arrive so now there are four of us, plus the PR and the lady from the label.
10:43 — The journ­al­ists are asked to sign a piece of paper saying that we won't tweet or write about the album or even com­mu­nic­ate to anyone that we've heard it.
10:44 — I have a slight panic as I mentioned on Twitter a few days earlier that I was coming to hear the album. I figure no one's noticed so I should be fine.
10:51 — I take out my laptop to make notes as we listen and there's some dis­cus­sion about whether that's okay because some people there only brought pen and paper. I can't access the wi-fi so I assume it's fine and continue.
10:52 — It's really hot and I'm aware that I am now glugging my tea back like it's water. I also want my cookie but the size of it is so ridicu­lous that I grow self-conscious about taking it out of my bag so I leave it.
10:53 — The album starts with 'Give Life Back To Music' which is a proper band song and not typical of Daft Punk's previous work. I write down things like "groove-led" and "properly '70s key party".
10:58 — 'The Game Of Love' is the second song we hear and it features a lot of vocodered vocals. It is, as I noted, a bit boring to be honest.
11:04 — Now then, 'Giorgio By Moroder' is properly amazing. It's also over nine minutes long, but like Justin Timberlake's 'Mirrors', it doesn't feel that long. It's basically Moroder narrating his musical career over slinky guitar and some vintage synths. There's an amazing bit where he says "my name is Hansjörg Giorgio Moroder, but people call me Giorgio" and suddenly the whole thing goes mental, with massive synth riffs bouncing off the walls. After each freak out bit it all calms down again before a new section comes in and then by the end all the elements sort of careen into each other. It's a lot to take in. I note that one bit sounds like Linkin Park, but perhaps that's the dehydration.
11:13 — 'Within' feels like a bit of a breather after the madness of the previous song. Apparently Gonzales plays the jazz‑y piano intro bit, which is good to know, but this is a bit loungey and feels like an interlude. There are some vocodered vocals on it which sound sort of hilarious, like someone just hit the "mopey" preset on a computer.
11:18 — Always in touch with the zeitgeist, 'Instant Crush' features Julian Casablancas and starts like a slowed down Strokes song (so is basically a Phoenix song). By this point my attention starts to wander and I realise that I need a wee quite badly. No one else has left the room so I have no idea what the etiquette is in terms of opening the door and allowing people that perhaps haven't signed the legal document to hear a blast of music.
11:23 — I take a picture of a picture of Beyoncé that's hanging up in the office. It's taken from those Roseland shows she did to promote '4' a few years back. I think about perhaps going to find whoever's working on the current Beyoncé campaign and seeing if they know what the fuck's going on.

11:24 — 'Lose Yourself To Dance' is the album's second Pharrell Williams col­lab­or­a­tion and it is very 'funky'. The BPM is quite slow which is annoying as the chorus is "lose yourself to dance" and frankly I need something a bit faster. Still, once you get used to it the song makes more sense and there's a great bit where Pharrell sings "here take my shirt and just wipe off the sweat".

11:30 — This next one ('Touch') is the album's epic centre, not least because it's around the halfway mark of the album but also because it's got loads of strings on it. It features Paul Williams on vocals, and appar­ently he is really quite famous but I'd not heard of him. This caused some shock at the end of the playback when this con­fes­sion was made known. Anyway, 'Touch' is a bit all over the place, but good. I write "ambitious" in my notes.

11:39 — Next up is the single, which you've heard. It's longer on the album at just over six minutes.

[youtube]5NV6Rdv1a3I[/youtube]

11:44 — I really need a wee. 'Beyond' isn't helping because it's quite slow and a bit dull. There's also a picture of Pink squatting above the head of one of the journalist's and it's unset­tling me slightly.

11:50 — 'Motherboard' features a flute. A FLUTE! It sort of meanders about a bit for a couple of minutes before a big fat synth wobbles comes in and it all gets quite exciting. Again it's quite Epic. According to my notes it "ends with what sounds like someone using the loo".

11:56 — This next one, 'Fragments Of Time', features Todd Edwards who appeared on 'Discovery' and it is very good indeed. It sounds like summer. There's a great line in it which goes something like, "I'll just keep playing back these fragments of time, every­where I go there's more ways to shine". It will obviously be a single.

11:57 — My poor white chocolate cookie.

12:03 — Up next is laughing boy Panda Bear on a song called 'Doin' It Right', which is again quite groove-led and not quite as fast as you want it to be. It is, as I have noted, "all tension and no release".

12:05 — It feels like we've all been here quite a while now. Also, this doesn't sound like an album that reveals its 'goods' on one listen.

12:08 — Right, the last song, 'Contact'. It starts with an actual recording from an actual astronaut and just as he says "there's something out there" a big church organ-style synth comes in and it all gets very dramatic. I let out a bit of a laugh because the sudden shift is quite amusing. Again it takes in lots of different 'movements' almost, with new elements appearing and then falling away at will. It ends with a weird synth rush that sounds like a kettle boiling but is probably just the sound of a rocket taking off. In fact, that sound then continues for about a minute and gets louder and louder until it's almost unbear­able. Then the kettle/rocket takes off and everything seems to dis­in­teg­rate as if it's all going backwards and then it stops.

12:09 — We all sort of let out a sigh and laugh a bit because that last one was quite a lot to take.

12:10 — I am about to wet myself.

12:15 — We say our goodbyes and I go to the toilet.

12:22 — I eat my cookie on the tube back to Liverpool Street.