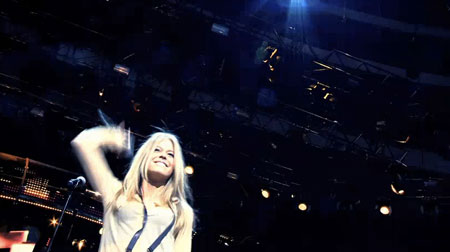 "What," people sometimes ask, "is the legacy of punk?"

35 years since popstars started being mean for no reason, the question is more valid than ever. Do we find the spirit of punk in Vivienne Westwood lending her name to this year's Brits statues? In the singer from The Wombats kicking his pill addiction because sometimes it made him feel a bit fat? In Lady Gaga wearing a leather jacket from time to time? In Tom from The Wanted telling Lee Ryan to fuck off on Twitter, or in Lee's bandmate Antony pissing on a cash machine? And then there is the existence of Pitbull, his life and bewil­der­ing career best and perhaps only explained as a Situationist-style prank of which Malcolm McLaren would have been proud.

Punk's legacy could be any, all or none of those factors but if you want to hear a piece of music that captures all the raw energy of punk at its most vital we would like to recommend 'Punk Rock Song' by Swedish singer (and Disney alumnus) Vendela.

It namechecks Patti Smith, rhymes "1977" with "sexual expres­sion", and it's brilliant. We've made it Song Of The Day today.

[youtube]OG3KEr9R56o[/youtube] Allow us to make sense of all this.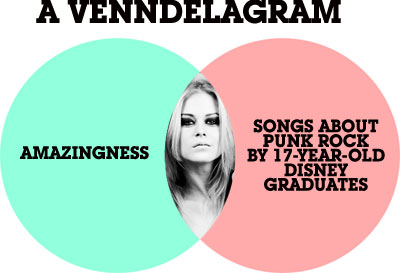 'Punk Rock Song' was written by Tony Nilsson and Sharon Vaughn, who've worked on acts like The Saturdays and Agnes.

FIVE AMAZING LINES IN THIS SONG

1. "You make me scream like a front row girl"
THIS is a great pop lyric.
2. "Everything's groovy, I am a groupie"
Out of control on cheap drugs, miles from home, not exactly sure you're very happy about the whole situation really, and being bummed by a bassist. The epitome of groov­i­ness.
3. "It's 1977, at least that is what it feels like"
1977 would probably have been quite a good time to be a pop fan. Not only would you get the enter­tain­ing sight of punks being moody every­where, but there would also be proper music too like 'I Feel Love' and 'So You Win Again' at Number One and ABBA EVERYWHERE and that sort of thing.
4. "I'm full of sexual expres­sion, I want to party like a rockstar"
She's right: rockstars are, often, full of sexual expres­sion.
5. "I wanna sing like Patti Smith for you, cos I love you like a punk rock song"
THE GREATEST POP LYRIC OF 2011 SO FAR.
HEADLINES WE DID NOT USE FOR THIS ARTICLE
Mindless Vendelasm
V For Vendela
A dis­turb­ance like a Vendala
Jaunty chords: Vendela
Etc
FURTHER READING
» General bits and bobs
» Vendela on Facebook although this might be her personal account
» Scandipop on Vendela
» Vendela singing 'Alone' by Heart (amazing)