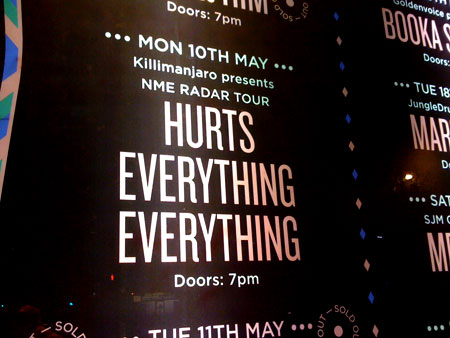 We went to see Hurts' show at London's Koko last night. It's an expanded and revised version of the Manchester show we saw in February, but the opera singer remains. They're a strange but brilliant live act and Theo address­ing the "ladies and gentlemen of the Camden Palace" made a lot of sense.

Here's 'Blood Tears & Gold' from last night.

[youtube]grmWmo1Jjjg[/youtube] Here's 'Stay' from one of the other dates on the tour. [youtube]BxebRk4sG0I[/youtube] And 'Silver Lining'. [youtube]jq80qbFdyBo[/youtube] And this is 'Better Than Love'. [youtube]a9SiuX2n1fQ[/youtube] There don't seem to be any YouTube clips of one of the band's big tunes, 'Sunday' (or is it 'Sunday Morning'?), but watch out for that one because it is really rather special.