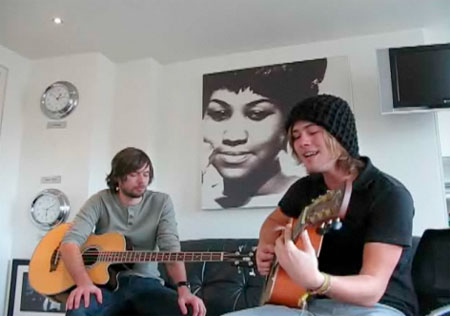 During the week quite good pop band The Days said that if Popjustice users picked a love song, they'd perform it for you in a Valentine's Day acoustic video fashion.
We picked a shortlist of five songs and it was inter­est­ing to watch the voting process — Madonna's 'True Blue' and Backstreet Boys 'I Want It That Way' both became early favour­ites but there was a late surge for Pet Shop Boys' 'Love Comes Quickly', which even­tu­ally won. We suspect there were various different attempts at vote rigging, partly on behalf of a band who wanted to cover either Backstreet or Madonna and partly on behalf of psychotic Pet Shop Boys fans.
Either way the winner was 'Love Comes Quickly, except The Days decided they couldn't do that one (?!?!) so they instead decided to go for Backstreet Boys' 'I Want It That Way'.


Quite nice, but what do you think Aretha is thinking? This could actually be a spooky sort of 'vote within a vote' caption com­pet­i­tion, couldn't it? Send your thoughts to [email protected] and we may or may not publish the best.
So, what have we learned?
1. Well, it's Valentine's Day today. Happy Valentine's Day to all Popjustice readers!
2. Based on their decision to ignore the results of the public vote, The Days are no fans of democracy. We urge you to remember this dark day if, for whatever reason, it is ever deemed necessary that the British public appoint a musical Prime Minister. NONE of The Days can be trusted.
FYI here is a man on YouTube who has figured out the cosmic secrets of how to do 'Love Comes Quickly' acoustic-style.
httpv://www.youtube.com/watch?v=6OO1AStwIC8

7/10.