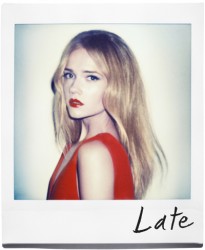 Well the new Florrie EP is really good.
In the nicest possible way this final instal­ment of her inde­pend­ently-released EPs is more of the same, cementing the found­a­tions laid over the last two years and paving the way (THAT'S ENOUGH MASONRY CHAT — ED) for very big things in the next phase of her career.
We asked her to explain what's going on in each song and here's what she sent over.
'Shot You Down'
"This song is about the con­trast­ing emotions you feel when you decide to end it with someone. It's sombre and moody, building to euphoria when the chords change from minor to major in the chorus. It took a long time to make it into a record. I dragged it from Kent to LA to Portland and even­tu­ally it all came together."
'If I Could Go Back'
"I've played in bands for years so I've always had a rock vibe about me and this track sums that up. I wrote this with Jason Resch and Kieran Jones and I play guitar and drums on the track."
'Every Inch'
"The music was written during a jam session in the studio in Kent on a dark January night. Fred Falke and Sam Martin play the main synth parts between them. And my friend MNEK (amongst others) helped write the song."
'To The End'
"I wrote this last summer with Annie Strand. And no, this isn't the mys­ter­i­ous duet with Annie! The chorus is an ad-lib that I came up with in the vocal booth. 'Tragically uplifting' is how I would describe this song."
Here are bits of the songs…
…and here's the EP on iTunes in case you feel like throwing £2.49 at it.