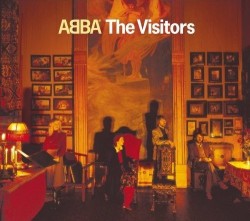 Abba's 'The Visitors' is the greatest studio album of all time* and it's being re-released on Monday.
(Obviously Abba's entire catalogue is re-released every four and a half years but that doesn't mean the albums aren't worth getting excited about.)
One of the 'brand new' things on this par­tic­u­lar re-release is a demo thing called 'From A Twinkling Star To A Passing Angel'.
We did ori­gin­ally ask Abba's lot if we could run that song on the site but they said no somebody else is doing that, how about you run a video exclusive (because there's a DVD chucked in with this reissue) instead?
An Abba video exclusive, we thought, that sounds good.
The one they were talking about is a rare (appar­ently) video for 'When All Is Said And Done'.
To be honest we can't tell the dif­fer­ence between the version we've been sent for this exclusive and the version that's been on YouTube since 2009 but here's what it says about the video in the album's new sleevenotes.
When All Is Said And Done (Original Promo Clip): Here's a selection for the ABBA fan who wants it all. 'When All Is Said And Done' was first heard in public when this video was shown as part of the Dick Cavett Meets ABBA tele­vi­sion special, ori­gin­ally broadcast in Sweden in September 1981 – the video had actually been filmed at the end of August three months before the release of The Visitors, indic­at­ing that it was con­sidered a possible candidate for single release at the time (ulti­mately only a handful of countries made this a single A‑side). The original video of the song does not include the first few bars of the recording, and there is also a subtle dif­fer­ence in the way Frida sings the line "there's no hurry anymore" towards the end of the song.
So there you go.
Look we don't know if this is bloody exclusive or not and if it is it's a very vague one but there's some incred­ible in-the-street-over-the-shoulder ser­i­ous­face and the song's fucking amazing so let's just all watch it and shut up shall we.
A triumph.
If you'd like to get the CD/DVD package, here it is on amazon for £11.99, which isn't really that expensive when you consider just how much amaz­ing­ness you get in return. We know an Amazon link isn't really in the spirit of Record Store Day but you don't want to spend your Monday lunch hour battling through the iPod docks in HMV and the chances of Rough Trade East stocking this when they didn't even have 'MDNA' on the day of release are fairly slim so you can probably click the Amazon button without feeling too guilty.
* We might change our minds about this in the future but we decided on this last year and it's proven a pretty robust decision so far**.
** Also we say the best studio album because, as everyone knows, Now That's What I Call Music 11 is the best album.
UPDATE: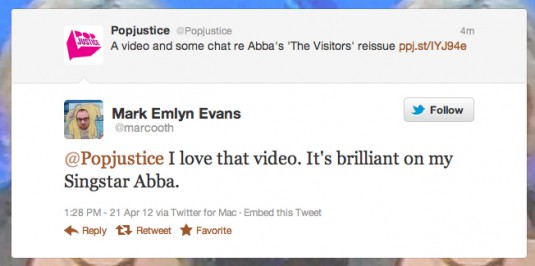 :(