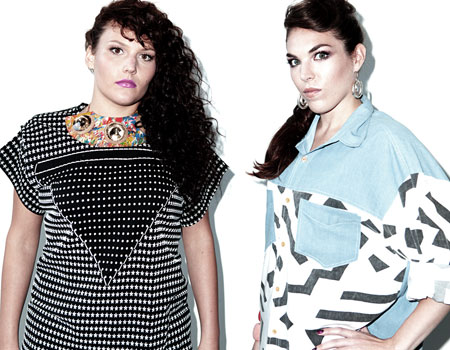 That is a picture of a very exciting new pop duo called War Of Words. We have loved them for a long time and we reckon you might love them soon, too.
Key points:
1. They are Abi and Lucy, and Ben from La Roux has produced and co-written their stuff.
2. It's got a sort of early-90s kind of 'vibe' in the same way La Roux's first album had a sort of (SORT OF) 80s 'vibe'.
3. Their songs are incred­ible.
4. In fact their songs are so incred­ible that we're releasing their debut single on our label, Popjustice Hi-Fi.
5. But guess what? Their incred­ible songs are so numerous that we're not just releasing one single. Because War Of Words are 2x brilliant they're releasing TWO DEBUT SINGLES ON THE SAME DAY.
6. That day is December 4. Clear a path to the Christmas Number One spot: we're coming through.
7. One single is 'Battleground' and it sounds like this.
Epic and lovely? Yes epic and lovely.

8. The other single is 'Panic', and it sounds like this.
This is probably our favourite out of the two but don't tell 'Battleground', it's important they are treated equally.

9. "Those are two jolly good songs." Not our words, readers, but the words inside your own heads.
10. And there you have it. If you have a copy of this week's New Musical Express to hand there is a piece about them in that, and extremely illu­min­at­ing it is too.
Further Reading:
» War Of Words upon The Twitter
» War Of Words on Facebook
» A BBC News thing featuring some bits about War Of Words