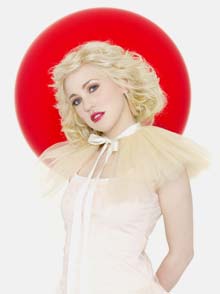 If Kylie was let loose on the songs from the second Rachel Stevens album with Jake Shears, Richard X and Xenomania helping her sort out what is what then she would probably come up with something like the new(ish) Margaret Berger album.
You have probably never heard of her, but this is not to say that she is not very good indeed.
We would have liked to have mentioned her before now but some VERY IMPORTANT THINGS got in the way .
The album is called 'Pretty Scary Silver Fairy' and it is an amazing col­lec­tion of elec­tronic pop songs.
'Pretty Things In Life' sounds like Girls Aloud recording their next album in space, 'I'm Gonna Stay After Summer' sounds like Madonna recording her next album on the swings and 'Robot Song' is Alison Goldfrapp falling in love with an entire technostable's worth of elec­tronic ponies.
Actually Margaret (A POPSTAR! CALLED MARGARET!!) also looks a bit like Alison Goldfrapp, albeit a thirty-years-younger Alison Goldfrapp.
She has also got herself a MySpace page and made some videos. She went into orbit for the video to 'Samantha' and she went out on the piss with some drag queens for the 'Will You Remember Me Tomorrow' video. Lovely.
Finally, we feel we should tell you that she was the runner-up on the second series of Norwegian Idol in 2004 (wait, come back, etc etc etc) but she is not rubbish.
The album will probably never be released in the UK but don't let that put you off.