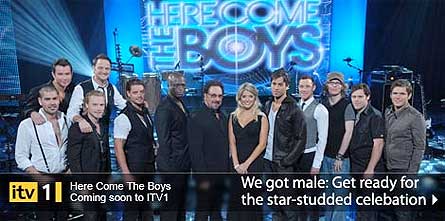 Following last night's 'Divas II' — various wailing ladies promoting their current releases — ITV1's pulled a real treat out of the hat for next week. 'Here Come The Boys' features Boyzone, Seal, Tom Jones Enrique, Will Young and Scouting For Girls (these days the closest the pop industry has to a punchline) per­form­ing tunes in what ITV describe as a very special pro­mo­tional oppor­tun­ity TV event.
We love the promo picture above: Will Young's face is the absolute defin­i­tion of 'grin and bear it'.

ALTERNATIVE TITLES FOR 'HERE COME THE BOYS'
» They've Got Cocks, They've Got Albums And/Or Singles Out
» Who Invited Scouting For Girls
» Come Back Jimmy Tarbuck All Is Forgiven
Despite the fact that 'Here Comes The Boys' looks like it will be absolute shit, what's inter­est­ing is that this show and Divas II are showing that primetime audiences might quite like the idea of pop per­form­ance shows. Perhaps, con­sid­er­ing the fact that people release singles and albums every week of the year, there could be some mileage in turning this sort of thing into a weekly event. The show would essen­tially showcase the most popular releases each week. We don't know what they'd call this weekly showcase of top pop but we are sure they'd come up with something.