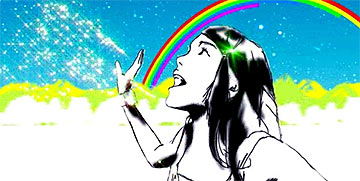 We discussed this in yesterday's mailout but it really deserves another mention: a (so-far unsigned) song called 'Heavenly Star' by Genki Rockets.
As you will note from the YouTube video below (you can also listen on this MySpace page) it is a bit neither-here-nor-there to start with and then at the 0'40" point it EXPLODES into a generally amazing Daft Punk-go-Europop extravaganza.
The song (and video) are something to do with a PSP game. We do not own a 'PSP' or know anything about this secret youth trend but here is what it says on the press release.
"The original music video 'Heavenly Star,â? which will be available as a back­ground in the upcoming PSP® (PlayStation®Portable) system game, Lumines II, was unveiled by Tetsuya Mizuguchi of Q ENTERTAINMENT today. The song is performed by a new music group called Genki Rockets, which work exclus­ively with Q ENTERTAINMENT.
Mizuguchi, producer of 'Luminesâ? and 'Rez,â? released 'Heavenly Starâ? for online avail­ab­il­ity. 'Heavenly Starâ? features the first original song and music video ever produced by Mizuguchi.
The group Genki Rockets is a hybrid group that consists of a few artists. The group will be col­lab­or­at­ing with other artists in the future to bring new music and videos.
'While most of my creative energy has been devoted to video games, because music plays such an important role in them, it seemed ideal to create an original music video," Mizuguchi said."
We are still none the wiser.