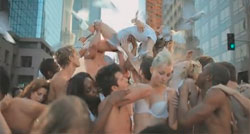 FACT: The new Kylie single is really good. (This has been stated on various occasions over the last couple of months and is as factual now as it was the first time, ie totally.)
FACT: Fear Of Tigers are/is a per­en­ni­ally v good remixular/production type outfit.
FACT: Fear Of Tigers have/has remixed 'All The Lovers'. Like lots of Fear Of Tigers mixes (and lots of Kylie tunes) it's a bit of a cel­eb­rat­ory balloon-drop/glit­ter cannon sort of affair.
FACT: You can listen to it exclus­ively here.
What have you got to say about, then? Eh?
Further reading:
Buy the proper version of 'All The Lovers'
Download the Fear Of Tigers album for precisely zero pence