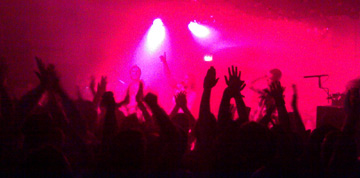 This is an audience thanking Scissor Sisters for playing a semi-secret show at London's Scala last night.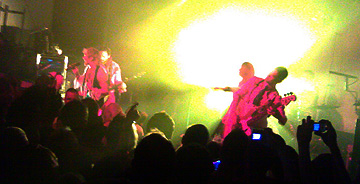 And this is the Scissor Sisters doing a thing to make the audience want to say thank you, the thing in question being playing LOADS OF NEW SONGS as well as LOADS OF OLD SONGS in a set that, to be fair, 'went on a bit'.
Unfortunately, and through no fault of our own, we were quite drunk by the time the band came on stage and our 'notes' are frankly illegible, but we can tell you the following: after years of seeing bands debuting new material to enthu­si­astic crowds who des­per­ately want to get into the new tunes but can't due to not really knowing what's going on, we have never ever ever seen an audience react to a brand new song like last night's crowd reacted to the Scissors' comeback single 'I Don't Feel Like Dancing'. The whole place literally exploded. Astonishing, really.
Also, Ana Matronic has got some new hair.
A note on the images above: Although you may think that the two pictures accom­pa­ny­ing this story are the work of a pro­fes­sional pho­to­grapher using expensive and com­plic­ated pho­to­graphic equipment, you may be surprised to find out that they were actually taken by a complete amateur on a cameraphone.