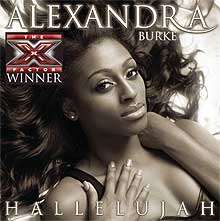 Things we don't want to hear any more about until 2009: "Isn't Alexandra's version of 'Hallelujah' pointless/amazing, isn't it pointless/amazing that Jeff Buckley's version is back in the Top 3, isn't this a victory/a totally hollow victory for real music etc etc".
The fact of the matter here is that the best ever version of 'Hallelujah' was by Jeff Buckley and the worst ever version of 'Hallelujah' is Bono's. Every other version of 'Hallelujah' between now and the end of time will sit somewhere between those two recordings.
As for whichever 'crusades' are currently running regarding the Buckley version — appar­ently there's one in The Sun — we fail to grasp how any of this is a 'real victory for real music over Simon Cowell's plastic pop rub­bishzzzzzz' given that none of it would be happening without The X Factor. "Readers! Let's really teach Simon Cowell a lesson and show him that he's powerful enough to get Jeff Buckley in the Christmas Top 5 without lifting a single finger." "Oh and let's show that The X Factor is manip­u­lat­ive and not about music by making people buy a song not because they like it but as a token of their dislike for something else." LOGIC FAIL.
The 'victory for real music' brigade are really making no sense at all with this whole 'Hallelujah' business — what we have here is a victory for the ability to write melodies which are good enough for an X Factor winner's debut single. Cathy Dennis can do that, you know. She can also write songs like 'Toxic'. Did Leonard So-Called Cohen write 'Toxic'? No. (Subs please check) What has been estab­lished here is that Leonard Cohen could, if he wished, pitch some songs for the next Westlife album.
"Oh but it's the lyrics that make it so sub­vers­ive." Yes. Very sub­vers­ive. Considering nobody even knows what they actually mean. (??!) Well done everyone.
httpv://www.youtube.com/watch?v=BA048pcITlA

(As an aside, is it just us who finds any sort of 'crusade' to get a track 'back in the charts' com­pletely embarrassing?)