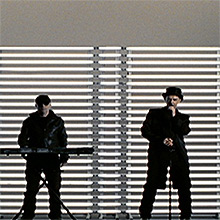 The Pet Shop Boys are the 'stars' of the new Popjustice Podcast, which is online and down­load­able RIGHT NOW.
During the interview — which lacks the hysteria of the Matt Willis one, which is perhaps for the best — Neil and Chris discuss:
Why the BBC are "wankers" for taking Top Of The Pops off air.
Interior dec­or­a­tion.
How and why they are on the new Robbie Williams album.
Why Sandi Thom's single was an "enorm­ously intel­lec­tual" record, as well as being "horrible".
The Stock, Aitken & Waterman reunion.
And so on.
Neil also eats a banana live 'on air', amid the usual doorslam­ming, squeaking chairs and generally low audio pro­duc­tion values you have come to associate with the Popjustice Podcast.
We should probably mention that their new single 'Minimal' is in shops now, but you already know that.