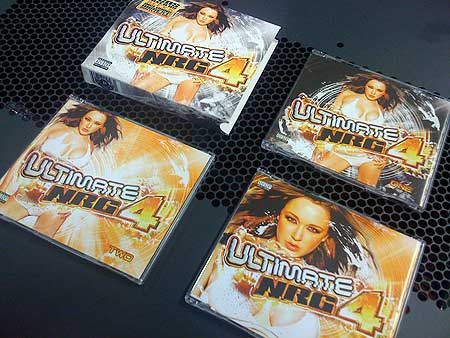 'Ultimate NRG 4' arrived at Popjustice HQ at the start of the week and we have been working through it in 20-minute portions. It is 'quite heavy going'. As you can see above the sleeves on the 3CD set feature pictures of a lady in her pants. Well, it's the same picture in different positions.
[audio:promisedonk.mp3]
The sleeve for CD3 (bottom right) is bril­liantly executed — you can see the lady's face, but they've made sure you can also see her breasts. Both elements get equal billing. It's good because this CD is clearly aimed at women and the sleeve for CD3 sends out a positive message in these body-obsessed times: it's not all about having big tits, it's just as important that you've got a present­able face, too. LADIES TAKE NOTE.
[audio:justdancedonk.mp3]

Anyway the CDs are clearly brilliant — CD1 kicks things off with a MEGAMIX of what's to come, and things get even better after that.
[audio:whenigrowupdonk.mp3]
'Amazing.'