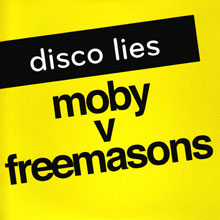 Moby's got a single coming out.
It's called 'Disco Lies'.
It's quite good.
It's been remixed by the Freemasons.
The Freemasons mix is totally massive.
It sounds like the Beyonce 'Green Light' remix.
The Freemasons did that one as well.
Moby's label are obviously well aware of the fact that people are more inter­ested in The Freemasons than in Moby these days because they have put 'V FREEMASONS' (except in lower case) on the promo sleeve.
What is the dif­fer­ence between 'V' and 'VERSUS', we wonder?
Here is a bit of the remix.
[audio:discoliesremix.mp3]
VERY VERY GOOD.