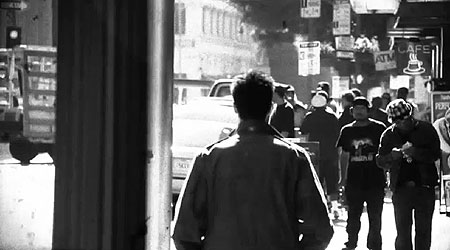 We quite liked Frankmusik's new single 'The Fear Inside', then didn't like it that much, then decided it was fantastic, then failed to see the point, then finally settled into the reas­sur­ing feeling that, most import­antly, and for all its good and bad points, it succeeds on what we hope are its own terms.

And those terms, we think, are that it is a slightly brilliant pop tune not (we hope) par­tic­u­larly aimed at inter­na­tional mul­ti­plat­inum chart success in its own right, just as a reminder that Vincent Frank knows one end of a massive pop hook from the other. In the buzz release sense it certainly does its job of setting up a slightly different direction for the second album, and it makes us feel a bit excited about that second album.

There was a point near the start of Vince's first album campaign when it became quite clear that the fun and sponteneity of (TRAGIC MUSO ALERT) 'his early demos' had been jet­tisoned, pre­sum­ably as part of an ill-fated quest for Radio 1's approval; perhaps Vince's partial relo­ca­tion to the States, and some new guidance from Cherrytree Records (who get it right more than they get it wrong) will bring some of that early spark back to his music.

Anyway a video went online this morning. It is nothing to get very excited about but you can watch it over at the Cherrytree website or — if you are pushed for time — in this YouTubular box right here.

[youtube]b8Kahi_9nwQ[/youtube] Not as good as 'Poison' by Nicole Scherzinger but better than 95% of all music released in 2010.