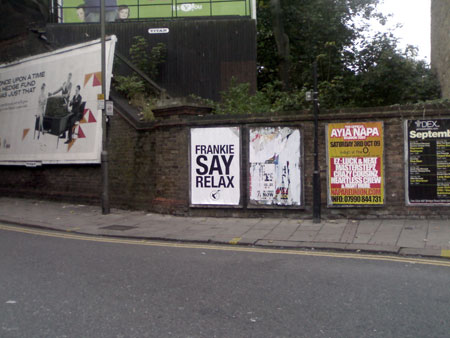 The last few weeks have been very exciting in London, because wherever you go there seem to be Frankie Goes To Hollywood posters stuck all over the place.
It is a bit like being in Ashes To Ashes — for­tu­nately if you turn on the radio it's clear you're back in good old 19[INSERT LABORIOUSLY CONSTRUCTED 'JOKE' BASED ON VARIOUS CURRENT POP TUNES SOUNDING LIKE SONGS FROM OTHER ERAS, PAUSE FOR LAUGHTER].
Much as we'd like the Frankie fly­po­st­ing to be for fun it's actually all in aid of a new greatest hits album.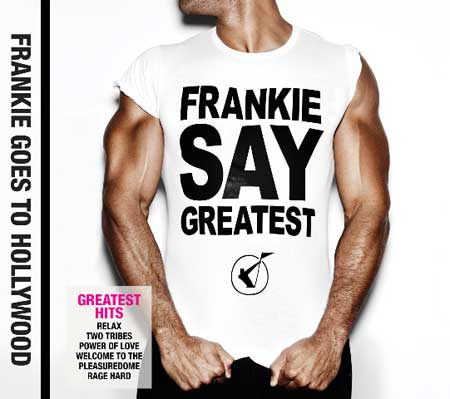 We like the way Frankie Goes To Hollywood pop up every few years with a greatest hits album and 'brilliant new remixes'. They did it in 1993, six years after the band's last hit single, then they did it again, seven years later, in 2000. After gaps of six years then seven years, math­em­at­ics fans might have been expecting a Frankie repackage after an eight year gap so really this 2009 set of reissues is a year overdue. Which might explain how stale some of the 'Relax' remixes are. Like most remixes to have come out around the various Frankie ret­ro­spect­ives, they can't avoid the fact that the three key Frankie tracks, and the ones which are usually wheeled out to promote these albums, exist in total per­fec­tion by means of their original versions, and that any sub­sequent variation or dicking around is a waste of everybody's time. In most instances, and this is the really amazing thing about the pro­duc­tion on songs like 'Two Tribes', remixes created in the present day invari­ably somehow sound more dated than the original 80s record­ings. All these people who've done the new mixes — Scott Storch, Chicane, Spencer & Hill — obviously did their best, but their time would have been far more con­struct­ively spent picking up litter or doing some gardening for the elderly.
Anyway here's the 'Frankie Say Greatest' tracklisting.
CD1
1) Relax
2) Two Tribes
3) Welcome To The Pleasuredome (Escape Act Video Mix)
4) War
5) The Power Of Love
6) Ferry Cross The Mersey
7) Is There Anybody Out There
8) Tag
9) Born To Run
10) Rage Hard
11) Warriors Of The Wastelend
12) Watching The Wildlife
13) Happy Hi
14) The Waves
15) Relax (Chicane Radio Edit)
16) Two Tribes (Hibauska)
17) Relax (Lockout)
CD2
1) Relax (Sex Mix)
2) Two Tribes (Annihilation)
3) War (Hidden)
4) Welcome To The Pleasuredome (Fruitiness Mix)
5) Rage Hard (Freddie Bastone Remix)
6) Watching The Wildlife (Hotter)
7) Relax (Scott Stoch)
8) Suffragette City
9) Our Silver Turns To Gold
10) Get It On
It would be funny if they released a greatest hits without 'Relax' on it, wouldn't it. ("No" — Universal Music)