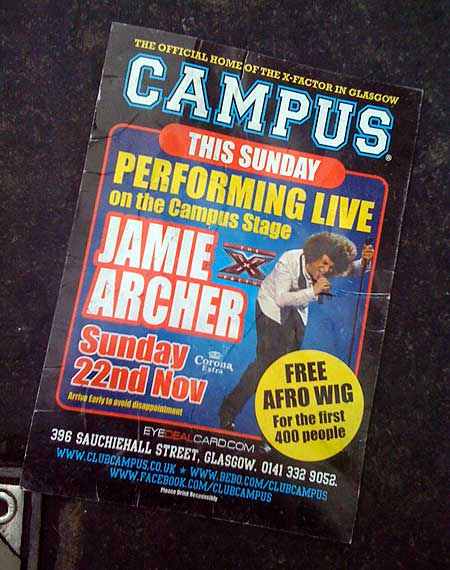 This miserable flyer was submitted by a Popjustice reader.
Hello Popjustice
They write.
I spotted this flyer on the pavement on my lunch­break, and thought you might like to see the latest step in Jamie Archer's Rock 'n' Roll mas­ter­plan to fill out stadiums and things like that.
Nearly there, Jamie!!!!!!!!!!!(!)!!!!
Shaun
x
Meanwhile, via email from another Popjustice reader:
Jamie Archer lives near me and appar­ently he was in a pub down the road on Friday sur­roun­ded by fans. At the end of the night, he sang Get It On.
Cx
THIS IS NOT THE END THIS IS JUST THE BEGINNING IT'S NOT OVER YET THE BEST IS YET TO COME WE HAVEN'T SEEN THE LAST OF HIM ETC ETC.