One London phonebox, three acts hoping to flog some music.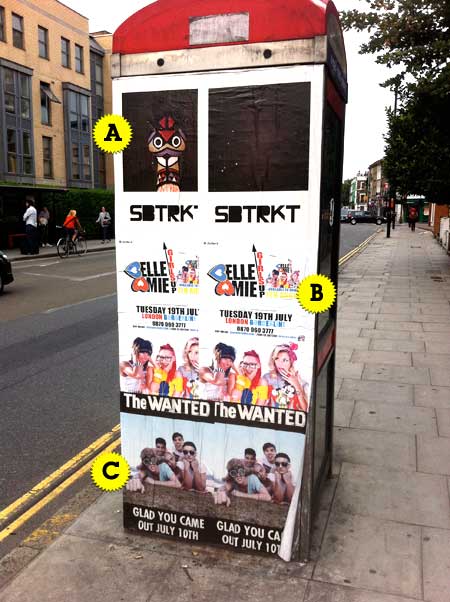 A. As you may know, SBTRKT spe­cial­ises in mostly boring dance music for people who prefer indie, but 'Wildfire' is quite good. This portion of his iTunes page probably tells you all you need to know.

Form an orderly queue everyone.

B. 'Girls Up' is the debut release from Belle Amie out of last year's X Factor. The song could be worse (which is fortunate as the band's styling probably couldn't be) but this is an unim­press­ive effort. This flyposter is for a one-off London date at the Borderline on July 19, three weeks ahead of the single release, and if you've ever been to the Borderline you've probably got some idea how odd this all is. It would be good to hear some more of Belle Amie's songs — they seem likeable enough so if they've got better tunes lined up and manage to keep from shedding any more members there might be some glimmer of hope in the next couple of months. They're pre­sum­ably well aware that they only really have until the new X Factor series is underway to get things moving, but even in their current position they seem to have more room for manoeuvre than, say, Parade or SoundGirl. Here's the 'Girls Up' video in case you missed the song when we posted it before.

[youtube]bShXffrkJbE[/youtube]

C. This one, featuring The Wanted's single artwork, has caused a lot of interest among Popjustice readers, three of whom have sent us phone pics while out and about. Basically, it features Nathan and Siva bumming at least two other members of the band. Perhaps three, if a strap-on is involved. Let's have a closer look.
There's very little else to say on this really, isn't there.
Tom seems to be taking it well.