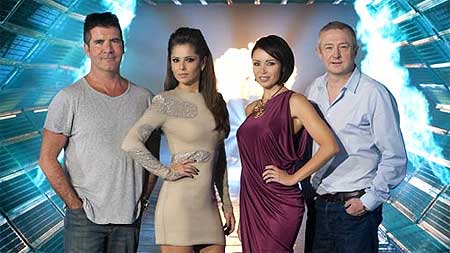 I Cheryl Crying
(Due to some sort of sob story about 'my struggle' etc etc.) (Yes we know it's not good to want someone to be a‑weepin' but that's enter­tain­ment innit.)
II A Brilliantly Staged Bit In Which Simon Cowell Threatens To Call The Whole Thing Off Or Something
It's always good when the voiceover goes "…but the talent [dramatic pause, shot of actually mentally ill woman haplessly tackling 'Womanizer'] seems to have stayed at home" and then it cuts to Simon having a Benny backstage because there's no decent talent, then he storms off and the next thing you know some girl walks in and is brilliant and then Simon does his 'you're alright by me' wink and everyone's happy again.
III Sharon Osbourne Walking Into A Door
The best X Factor moment ever is offi­cially Sharon Osbourne walking into a door. We know it might be difficult to pull off this year but if someone could sort that out it would be great.
IV An Argument Between Cheryl And Louis
Something along the lines of "your girlgroup is shit", "well your boybands are shit", "well at least we've had all these Number Ones, that's more than Girls Aloud", "oh fuck off you terrible old bell end" etc etc.
V Some Sort Of Reference To Eoghan Quigg Being The Worst Thing Of All Time
Perhaps not this weekend but at some point during this run of The X Factor there HAS to be some sort of reference to how bad the Eoghan Quigg album was. An ability for the show to recognise failure is just as important as its need to celebrate success — without that sort of context it just doesn't work. (Well it does work and is a ratings phe­nomenon which is now in its sixth hugely suc­cess­ful year having launched countless careers, generated millions of pounds and redefined reality pop, but you know what we mean.)