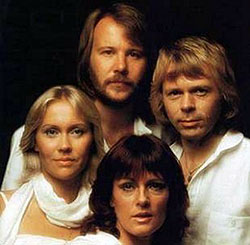 In The Times today, Benny and Bjorn from Abba consider the idea of an Abba reunion. Here are some options in case Benny, Bjorn, Agnetha and Frida are having a meeting about it any time soon.

1. Intimate webcast
This is the scenario presented to Benny and Bjorn by The Times: a small show with an orchestra, webcast to millions of fans around the world. This could be quite good (trans­la­tion: the absolute defin­i­tion of incred­ible) BUT most Abba songs don't really involve full orches­tras and some of the best ones def­in­itely don't, so the per­form­ances would not be 'proper' per­form­ances of the songs. Which would be a shame, but it would also allow Abba to have done something that wasn't a straight reunion show attempt­ing to recreate former glories, and if they are concerned about tar­nish­ing their live repu­ta­tion this could be a away around things.
2. 'The Visitors': Live And Depressing
Similar to the above in that it's webcast across the globe, but this show consists only of 'The Visitors' album performed from beginning to end by the band with no addi­tional musicians, in a darkened room with no audience. There is no between song banter; when the per­form­ance ends there is no applause. After an awkward twelve seconds, the screen fades to black.
3. One-off charity show along the lines of Pink Floyd at Live 8 / free festival in Stockholm to celebrate something quint­es­sen­tially Swedish in which only one Abba song is performed and the rest is just folk music or something / big event that is def­in­itely 'an Abba show' but attempts to shift the focus elsewhere
This is cheating and would not be tolerated.

4. Full studio album, no tour
In the past the band have said that in order to preserve the magic of Abba at their peak they should not perform live again. So, what if there was no live per­form­ance at all, but a full new studio album instead? This would allow the band to hone and polish the music to per­fec­tion, as was always The Abba Way. We think they could still turn in something that would be a fitting addition to the Abba legacy, too. For example this is the sort of song Benny and Bjorn can write these days, Agentha sounded and looked great only a few years ago. Frida is also looking good. If the band really want to give something to their fans, a 'perfect' new album, far more than a live per­form­ance most fans would be unable to attend (and which, like all concerts, would lose something as a webcast), would be the way to go. The brand new material could be either totally 100% new or perhaps new songs based on old themes, catching up with char­ac­ters and scenarios from old Abba songs. So we'd hear 'Angel Eyes', decades on, from the per­spect­ive of the male anti-hero, and we'd find out how the daughter in 'Slipping Through My Fingers' feels as she watches her own daughter grow up. But the idea of Abba announ­cing (for example tomorrow, or next Wednesday) the release date for a new album is immensely exciting and to release an album without any live shows, as outlined above, would allow the band to preserve a lot of the mystique they've cul­tiv­ated over the last thirty years.
5. Full world tour, studio album, webcasts, lunch­boxes, Celebrity Come Dine With Me Abba Special, the lot
Full on comeback, no messing around, "we're Abba, we're back, we're in your faces from now until forever".
We've pick option 4 from that list — what do you reckon?