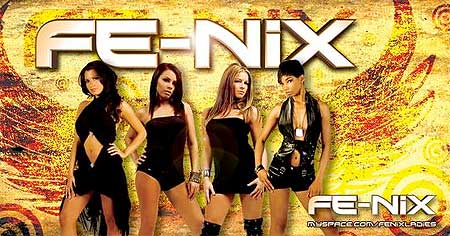 We keep getting sent press releases about the new (not very new at all, but quite inter­est­ing) girlgroup Fe-nix, who have recently signed to All Around The World.
They're a sort of 2008 version of Mis-teeq except with no trousers — take a listen to some of the tracks on their MySpace.
The press release is quite a work of art so here it is in full — we've put the note­worthy bits in bold.
UNIVERSAL SIGN NEW GIRL GROUP FE-NIX

All Around The World / Universal have signed bad girls of Pop, Fe-nix in a part­ner­ship with Charles Gordon Entertainment Management that will see the girls take the charts by storm

Taken by the girl group's dis­tinct­ive blend of under­ground beats and catchy choruses teamed with a sassy urban edge that pushes Dirty Pop to the forefront, All Around the World / Universal (home to platinum selling N‑Dubz) have signed Fe-nix to release 'Lady Baby' in April 2009.

The single (a re-work of club anthem 'My Boo') pre­vi­ously available on limited release to DJs, has already been cham­pioned by Radio 1's Mista Jam & Trevor Nelson, Capital's Des Paul and Kiss FM's DJ EZ and seen Fe-nix land the no.1 spot in Music Week's Club Breakers Chart leading to com­par­is­ons with hit acts such as Misteeq and Booty Luv. The track was also included in Universal's R&B Essentials (rel. 24th November 2008), placing it amongst the year's biggest hits!

Recording their debut album with an A‑list roster of producers including Jack Knight (Bad Boy), Harmony (Kelly Rowland), Skillz (Big Brovaz), T2 (Heartbroken), Mike City (Brandy, Chris Brown, Rihanna) and Jack Shack (Tinchy Stryder). Combining gritty UK urban dance pro­duc­tion with smooth US melodies, there has never been a more highly anti­cip­ated pop album!

The band has been inundated with shows, playing across the country through­out 2008 and 2009, and will be sup­port­ing N‑Dubz on their 16 date national tour in April 2009.

—end—

For more inform­a­tion please contact (details removed)

Notes to Editors:

Fe-nix are a four piece girl band made up of three singers and an MC, signed to Genetic Records / All Around The World / Universal. Bringing about a new genre of music (Dirty Pop) with an urban edge dance vibe, the girl's give a voice to a new gen­er­a­tion of young, sexy, sassy and self-determ­ined women.
www.myspace.com/fenixladies

Information on the girls:

JADE
Jade Tibbs (20) is a lead soul singer from Essex with Arabic roots. A trained dancer, she is the group cho­ro­grapher and in 2007 won London's pres­ti­gi­ous 'Bump and Grind' dance com­pet­i­tion. In addition, she is a national kick boxing champion, having competed in her youth through­out England and Europe at a national level.
AYSHEN
Ayshen Kemal (25) comes from Essex and is an estab­lished singer/songwriter. She has gigged with bands since she was 16 and brings a soulful R'n'B sound to the group.
TANYA
Tanya Mariam (24) started with an early interest in per­form­ing in the theatre. Hailing form East London she spent several years with family in America and has taken many influ­ences from their music into her own unique singing sound.
PRICELESS
Amelia Hansel (22) aka rapper Priceless. With her clear talent, energy and edgy lyrics, Priceless was scooped off Myspace by the Fe-nix ladies to become the forth member of the group.
Charles Gordon Entertainment Management:
www.myspace.com/charlesgordonentertainmentmanagement

Charles Gordon Entertainment Management is an up and coming Artist Management Company based in London. Our focus is to provide high quality musicians, producers, DJs and singer/songwriters with a platform to develop, and to assist them in reaching a larger audience.

The man­age­ment company is the brainchild of property tycoon Charles Gordon, who after multiple success in the property world has expanded into more creative areas.

Charles Gordon Entertainment Management also manages chart sen­sa­tions Booty Luv whose first single 'Boogie Tonight' spent eight weeks in the UK top ten, as well as up-and-coming song­stress Hannah Rose.

With a very senior exper­i­enced team, Charles Gordon Entertainment Management believe they have the talent and ability to tailor artists packages to exactly the standards that record labels are looking for.
So there you go. We look forward to hearing more from Fe-nix — as well as more "QUOTES" from Naz Idelji.