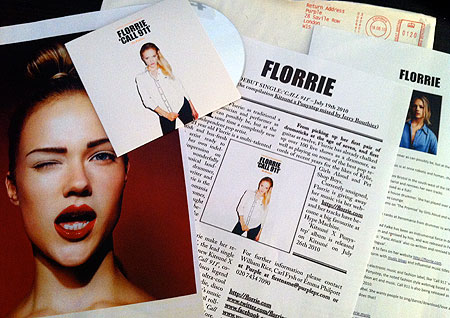 Here is some Florrie stuff that arrived last week. We thought you might want talking through it.
1. Photo
She has got one eye closed in case anybody fancies making their own i‑D front cover.
2. CD
This is the 'Call 911' com­mer­cial release. Because the release is 'Call 911 — The Remixes' there is still no sign of a proper radio edit and it is looking like we may never know what this song actually sounds like in its unremixed form. In fact we are starting to wonder whether the Fred Falke mix actually is the proper version, and was simply labeled as a Fred Falke mix for extra cred­points. With the exception of the His Majesty Andre Call Me Instead mix the other tracks have all been fed out to The Blogzzz so there is not a great deal of newness here but we've had the MP3s for a while so it's nice to now have the music on a CD that can go on a shelf for all eternity, take up space etc.
3. A sort of press release
This explains that the single is out on July 19 as the lead single from the new Kitsuné album etc etc.
4. A sort of factsheet
Facts include: she's ori­gin­ally from Bristol! She played her first gig dressed as a fish! And it adds: "AS YET FLorrie is not signed to a label. She wants people to sing/dance/download/love and play her music as much as possible, before she does that".
It's not mentioned in the above bits but Florrie is also fronting a massive Nina Ricci ad campaign. Last week Xenomania News had some video from the launch — you can see Florrie per­form­ing another tune, plus she says some very dip­lo­matic and on-message things about the fragrance, and on top of letting the music do the talking proves that she can also speak French.