Do you like Alphabeat?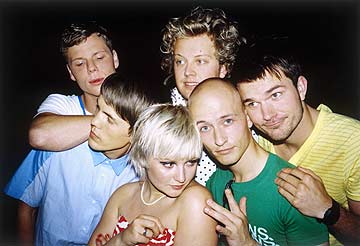 Yes you do.
We went on a top secret Alphabeat fact-finding mission to Copenhagen last week and here is the news.
BONG!
Alphabeat now have a proper record deal with a UK record label. They signed to EMI a month or so ago after what people tend to call 'a bidding frenzy'. As you know EMI have made a right old pig's ear out of some of their pop things over the last couple of years but we think they will do the business with Alphabeat. Then again, what do we know?
BONG!
Alphabeat are MOVING TO LONDON. They want to get a big house together and are looking East but don't want to go too far out. If you own a six-bedroomed house and would like Alphabeat to live in it, email us and we'll pass on your details.
BONG!
They are now with Mika's man­age­ment, meaning they will be massive and com­pletely impossible to avoid forever. This is good news.
BONG!
Their first single in the UK will be 'Fantastic Six'. It is the one on the album which sounds a bit like CSS and the B‑52s and sums up everything which is brilliant about Alphabeat without being so pop that it scares the horses. In classic major label fashion it will be one of those limited releases which isn't a hit on purpose etc etc. It's out sometime in October. There will be some remixes. Here is a video.
httpv://www.youtube.com/watch?v=201hRL8Wmo8

BONG!
That was the news.