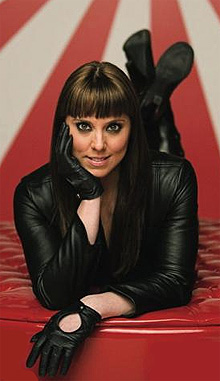 What springs to mind when you think of Melanie Chisholm?
An image of a moaning woman in her mid thirties with a very blunt fringe? Or the thought, 'I would really like to listen to her new album'?
If it is the second then hold on just a second because here are ten things that listening to the new Mel C album will make you think.
1. The last thing the world needs is yet another ex-Spice Girl aiming herself at the Radio Two market. Especially because Radio Two is now playing 'Sexyback' and Stefy, meaning that an album of mid-tempo plodders might miss its target (ie Ken Bruce).
2. Mel C has clearly made this album 'for the fans'. However, she obviously perceives her fans to be ter­min­ally unhappy comfort eaters since every other song is about being beautiful on the inside no matter what they and words can't bring you down etbloodycetera.
3. The ones which aren't above above-mentioned ugly people are about things being better 'on the other side'. Either that or 'following your star' – very Biblical.
4. 'Carolyna' , a mid-tempo plodder about following stars, is NOT based on a proper name. Unless you know otherwise. Please get in touch at [email protected] if your name is Carolyna and/or if Melanie C has ever attempted, unsuc­cess­fully, to rhyme your name with 'Ribena'.
5. 'Don't Let Go' is a duet with a man called Adam Argyle. This man is not Bryan Adams so is there any point? No. 'When You're Gone' was amazing. Why can't she do another song like that?
6. Adam Argyle is not signed to Melanie's 'record label' since Mel C evidently has no interest in signing or promoting any artists other than Mel C.
7. By the time 'I Want Candy' rolls around it sounds like the greatest song of all time.
8. The whole shebang is not quite as good as the Emma Bunton album. Make of which what you will.
9. This woman really does think that releasing another self funded, self released (and no doubt self bought) album is a better career move than a Spice Girls reunion. Unbelievable.
10. However, she can only chip away at the 'Red Girl Records' pot for so long so it is only a matter of time. Surely.
Now let's have a think about that picture above. Does that — in any way — show a woman enjoying her job?
Move along please, there is nothing to see here.