httpv://www.youtube.com/watch?v=HHQCOkSGnKs

Esser is following up his last song with a new one. Bad news: the video does not feature Esser having food thrown at him. Good news: the song itself, 'Headlock', is very good.
Esser is releasing the track in t‑shirt format, bringing us closer to the point when tracks are released in the revolu­tion­ary muffin packaging. For now, the idea is that if you but a t‑shirt it comes with a code to unlock a download of the song, or something. This is what the t‑shirt looks like.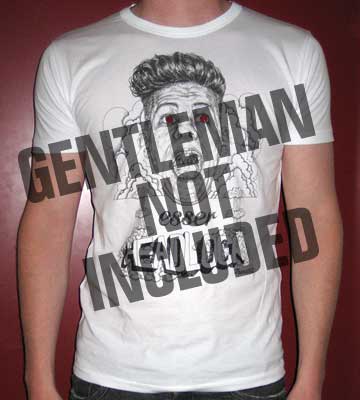 Hm — 'dis­tinct­ive'. To go with this whole thing Esser has recruited his fit brother for a series of hilarious 'virals' doc­u­ment­ing his attempts to play the song — IN T‑SHIRT FORM — on con­ven­tional music playing devices. Here is one of them.
httpv://www.youtube.com/watch?v=Z4U_tVTzZdc

Amusing.