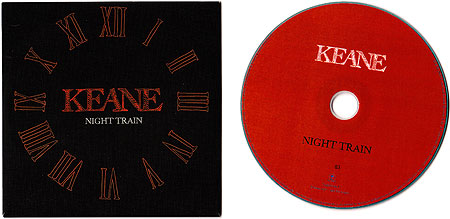 1. They're calling it an EP but it's got eight tracks (EIGHT TRACKS) on it and three of them could be obvious singles so let's be honest here, it's an album. Full track­list­ing: 'House Lights', 'Back In Time', 'Stop For A Minute' (feat K'Naan), 'Clear Skies', 'Ishin Denshin (You've Got To Help Yourself)' (feat Tigarah), 'Your Love', 'Looking Back' (feat K'Naan), 'My Shadow'. We had a bit of a chit-chat with the band last week and put forward our 'it's clearly an album what are you talking about' opinion; Tim from the band mentioned that he agreed with something Liam Gallager recently said about the con­straints of the modern music industry meaning that bands don't really get to release enough music. Keane's point regarding this EP is that the songs — recorded on the road — are so diverse that they don't really make sense as a 'proper album', but at the same time they're good enough to be released. So that is why they're calling it an EP.
2. It's an album.
3. The artwork is boring but don't let this fool you — there's some exciting stuff on 'Night Train'. Some of the songs continue in the tra­ject­ory of the last Keane album, so 'Your Love' (which has touches of 'Early Winter') is quite elec­trical and 'Stop For A Minute' (featuring a rap from K'Naan who manages to rhyme 'females' with 'e‑mails' thus putting this song on a level with Pixie Lott's 'Cry Me Out' in that respect and that respect alone) sits well alongside something like 'Spiralling'.
4. If you fear the modern world don't worry. 'My Shadow' is a proper 'Bedshaped'-shaped Keane tear­jerking piano ballad (a 'piallad', if you will). It is a lovely song about there being no need to feel alone because if you shine a light you "will see my shadow on every wall, and you will see my footprint on every floor", offering the advice that "when your back's against the wall that's when you show no fear at all" and *breaks down uncon­trol­lably as result of massive pop blubfest*
5. 'Ishin Denshin (You've Got To Help Yourself)' sounds like the theme from a long-forgotten early-90s Saturday morning kids TV show FROM SPAIN. Except the guest vocalist, Tigarah (very listen­able MySpace tuneage here), is a Japanese Baile Funk expert so that's a bit confusing. The main point here is that 'Ishin Denshin (You've Got To Help Yourself)' is on one hand amazing and on the other hand is the sort of thing that should never ever be heard by anybody at all, still less released as a single. It's not an easy song to come to terms with, but we've given it four stars out of five in our iTunes library if that's any help.
6. 'Looking Back' inter­pol­ates the Rocky theme (!) and 'Clear Skies' has a killer, 'Call The Shots'-esque chorus, while 'House Lights' is the music they came onto on their last tour (hence the name etc).
7. This isn't connected to the EP 'per se' but the Keane Website has a clip of Tom per­form­ing the Pet Shop Boys tune 'Your Funny Uncle', which is quite nice. *Breaks down uncon­trol­lably for second time*
8. And there we have it. The new Keane ALBUM discussed in some vague waffle which while perhaps not par­tic­u­larly detailed or bril­liantly written might lead you to be quite excited about this very good col­lec­tion of tunes. 'Stop For A Minute' is the first single — Keanemusic have a behind the scenes report from the video shoot. The whole thing's out in May. THERE YOU GO.